Lars Own®
Swedish Cinnamon Rolls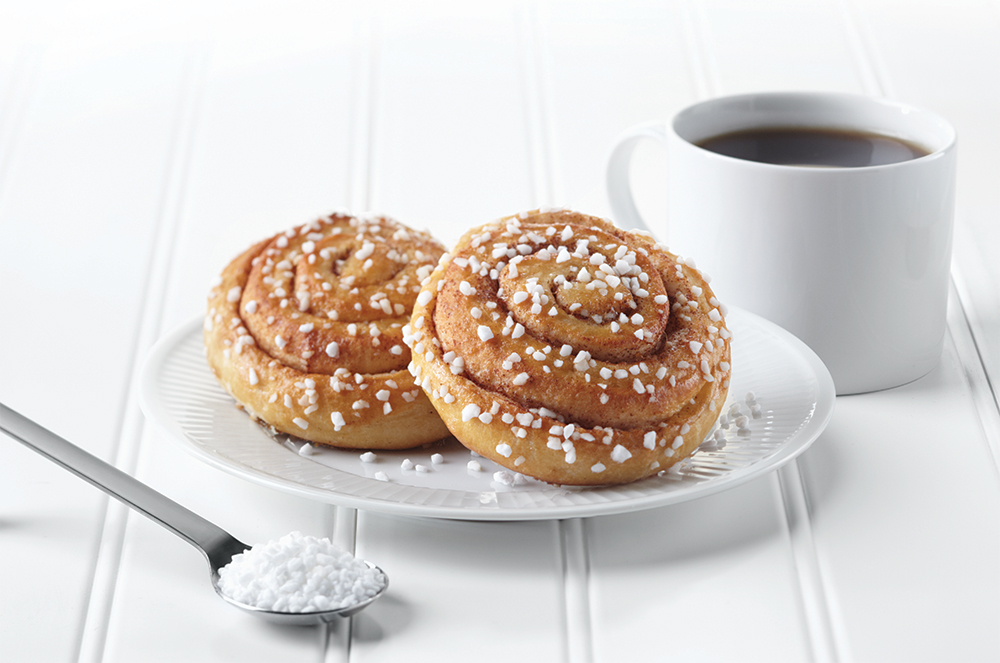 Swedish Pearl Sugar is typically used in Scandinavia (and elsewhere) to decorate cookies, cakes, cinnamon rolls and much more. Try adding some color to your baked goods by shaking the pearl sugar in a plastic bag with a few drops of food coloring.
Ingredients
1½ sticks (6 oz) butter, melted
1 cup warm milk (100°F)
1 packet (¼ oz) active dry yeast
¼ cup sugar
¼ Tsp salt
½ to 1 Tsp ground cardamom, optional
3-3½ cups all-purpose flour
Filling:
3 Tbsp sugar
1½ Tsp ground cinnamon
2 Tbsp butter, softened
Glazing:
1 egg, lightly beaten
Steps
In large mixing bowl, combine melted butter, warm milk and yeast; stir until dissolved.
Add sugar, salt, cardamom (if using) and most of the flour.
Work together until smooth and elastic. Cover and let rise in warm place 40 minutes.
Place dough on lightly-floured surface and knead using remaining flour as needed to form a soft dough. Roll out dough to form a 12-inch by 16-inch rectangle.
For filling, combine sugar and cinnamon. Spread softened butter evenly over dough and sprinkle with sugar mixture.
Roll up dough lengthwise, pinching to seal. Gently stretch log to about 24-inches long.
Slice into 24 equal pieces using a serrated knife.
Arrange slices on greased baking sheet or in muffin pans; cover lightly with plastic wrap. Let dough rise 20 minutes.
Preheat oven to 425ºF.
Brush with beaten egg and sprinkle with Lars Own® Swedish Pearl Sugar.
Bake for 10-15 minutes until golden brown.
Nutritional information
Calories

140

Fat

7g

Sodium

85mg

Carbohydrate

16g

Fiber

1g

Protein

2g
What our customers say
0 reviews, 0 Q&As
Previous
Stuffed Swedish Falukorv Sausage
Next
Swedish Pancakes